Tunisia marks independence day in defiance of attacks
Comments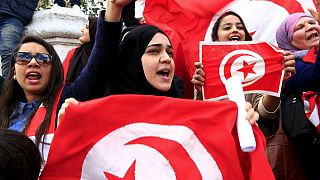 Thousands of Tunisians have turned out to mark Independence day and show their defiance against the militants who attacked the Bardo museum earlier this week.
Tunisia is a country of freedom, of democracy. We're not afraid of ISIL or groups like them.
Decked out in the national colours, they made clear they weren't going to allow the attacks to define them.
"We're not afraid. We're ready to resist, women and men together. They won't get far (militants) because Tunisia is a country of freedom, of democracy. We're not afraid of
ISIL
or groups like them," said actress Ines Lahfidi from Tunis.
Happy independence day my lovely tunisia #freedom#libre#fête#pays#Tunisie#tunisia#tu… http://t.co/HUqItKZs2Bpic.twitter.com/JvtdNr6Rx2

— Annuaire de tourisme (@Livehotels) March 20, 2015
Though the commemorations came amid the heartbreak of the attack and heightened security, the President Beji Caid Essebsi remained positive calling for reconciliation and national unity.
The attack that killed 21 people, 17 of them cruise ship tourists, was the worst to hit the country in more than a decade, and raised concerns over whether tourists will return to the popular destination. Many have taken to social media to express their solidarity, saying they will visit Tunisia soon.
#JeSuisBardo : people around the world pledge to visit Tunsia this summer http://t.co/FSihEpxQaw v/@guardianpic.twitter.com/li9eQ8cPNY

— Mathilde Bigot (@Mathildebigot) March 20, 2015
Protesters stood strong, spreading a message of solidarity with those who lost their lives.
Friday sees the 59th anniversary of Tunisia's independence from France.
Happy independence day my love #tunisia#20mars1956 ❤️ pic.twitter.com/X2URKHSXNk

— toy soldier (@SousouBrj) March 20, 2015