EU leaders agree to keep sanctions against Russia
Comments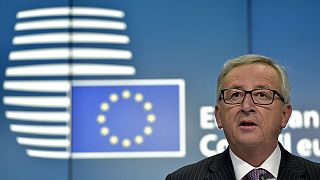 Economic sanctions imposed on Russia will remain in place until a Ukraine peace deal is fully implemented, EU leaders have agreed at a summit in Brussels.
The move effectively extends the sanctions – reluctantly supported by some – until the end of the year, if that is necessary.
Progress is also said to have been made on an Energy Union, with agreement over improvements to infrastructure and information sharing.
"The Energy Union is a necessity because Europe spends 400 billion euros on it per year, which is more than one billion euros per day. It's obvious that we have to put an end to the total dependence on other countries," said Donald Tusk, European Council President.
Meanwhile, a "mini summit" with Greek Prime Minister Alexis Tsipras has caused some ripples.
"The meeting about Greece on the margins of the summit, with only seven players, angered some countries of the eurozone," explained euronews correspondent Isabel Marques da Silva, in Brussels.
"Scheduled for after dinner, that ended the official part of Thursday's work. It only talked about the current status, but sidelined several countries that could suffer major effects if Greece was to exit the eurozone."