Nine arrested over Tunis museum attack, as security is boosted
Comments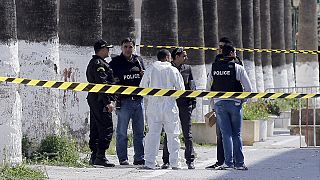 Tunisia's army is being deployed to boost security in major cities, after 20 foreign tourists were shot dead at the Bardo museum in Tunis.
Officials say nine people have been arrested over Wednesday's attack.
ISIL has claimed responsibility for the shootings, which it describes as "the first drop of the rain."
British, Japanese, Italian and Spanish visitors were among the victims.
Authorities say they have identified two gunman shot dead by security forces after the attack, which targeted tourist buses visiting the museum.
"The operation is underway, we have good leads. Honestly speaking, there have been arrests," said Habib Essid, Tunisian Prime Minister.
"But we hope that when the operation is completed, we will have final results and we will be ready to give you all the details."
According to the government, the two gunmen were trained at a jihadist camp in Libya, after being recruited at mosques in Tunisia.
ISIL, which is active in chaos-ridden Libya, has praised the attackers in an audio recording, describing them as "knights of the Islamic State."