Tunisia's jihad recruits told 'don't come back'
Comments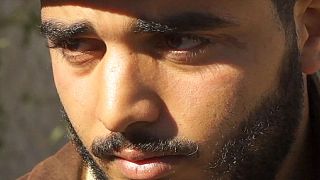 An unwanted claim from Tunisia is that it has become the foremost source of jihadist fighters in Syria.
Since the start of the Syrian conflict in 2011, Tunis says more than 3,000 Tunisian nationals have gone to take part in the war.
Those who return receive a cold welcome from the authorities.
Their former friends struggle to understand the transformation.
An inhabitant of a town just outside Tunis talks about a friend who left.
Ibrahim Ben Abdelrahman said: "He became a follower of Jabhat al-Nusra in Syria, ISIS. He developed a takfiri mentality [a Muslim who accuses others of abandoning Islam]. Whenever we spoke to him, he'd forbid everything, say no to everything, accept no debate."
Ibrahim Ben Abdelrahman doesn't understand how his lost friend Marwan, who he says used to consume alcohol and associate normally with women, switched to jihadism.
History professor Alaya Allani, a specialist on Islamist movements, said: "It's ideological brainwashing. They also make promises, telling the recruits they're going to make loads of money in Syria."
But when aspiring jihadists cross the border to Libya for basic training in camps, Ben Abdelrahman said there are signs of inconsistent behaviour that the recruits observe.
Ben Abdelrahman said: "[Marwan] saw trainers and leaders drinking, but not those who travelled with him. The trainers' justification is that they have to pretend to be 'normal' people, that when they leave the camp, they have to appear to lead a normal life, appearing untrained, seemingly non-practicing Muslims."
Tunisian rapper Mehdi Akkari saw his brother Youssef become radicalised and travel to Syria, only to be disillusioned once he arrived, by crime. Managing to return home, he found it impossible to stay, and so he went back to Syria and was killed.
Akkari said: "The Tunisian police created a new problem for him. They harassed him, and somehow pushed him to leave, to get rid of him. They're afraid of jihadists."
Professor Allani said: "An important part of those who left can't come back here since a law was adopted that makes them criminals. They prefer to either stay there or to go to other countries such as Libya or Iraq."
According to the Interior Ministry in Tunis, more than 9,000 Tunisians have been banned or prevented from travelling to Syria.
The official position is that young people who are more vulnerable to extremism must be monitored.