Islamist extremists ISIL say Tunisia's tourist massacre was their work
Comments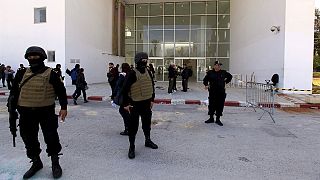 Extremist group Islamic State (ISIL) has claimed responsibility for Wednesday's attack in the Tunisian capital in which 20 tourists and a Tunisian security guard were killed, as well as two gunmen.
More than 40 people were wounded in the shooting at the national museum in the heart of Tunis.
The fallout includes deployment of the army in other major cities as well. Nine people have been arrested.
A Spanish couple who had been missing appeared after hiding in the museum all night, terrified even to use their phones to communicate their whereabouts.
In the morning, Tunisian Health Minister Said Aidi said: "The emergency services brought them to hospital and they are now doing well. The woman was pregnant."
When gunmen in military uniforms stormed the heavily guarded parliament compound, visitors fled into the national museum which is a part of it. The extremists took hostages.
Two hours later, the government said, security forces killed the militants.
Officials revealed that the foreign dead included Japanese, Italian, Colombian, Spanish, Australian, Polish, French and British.