Vanuatu appeals for aid after Cyclone Pam destruction
Comments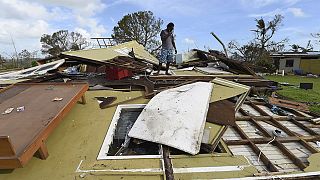 There are reports of "utter devastation" on the outer islands of Vanuatu after the massive Cyclone Pam that tore through the South Pacific nation at the weekend.
Government and relief agencies are struggling to establish contact with isolated areas.
Red Cross reports "utter devastation" on southern island of Tanna with most homes destroyed. #vanuatu 4/5

— Australian Red Cross (@RedCrossAU) March 16, 2015
With the official number of eight dead and 20 injured looking certain to rise, Vanuatu is appealing for help.
"People haven't still come through yet. Still got weariness. Have emotional feelings. But it will take time before they can lift up. The people of the Republic of Vanuatu they need humanitarian assistance at the moment," said the President of Vanuatu, Baldwin Lonsdale.
Cyclone Pam is set to be one of the Pacific's worst ever natural disasters.
It has been compared in strength to Typhoon Haiyan that ravaged the Philippines.
The capital Port Vila with its population of 29,000 bore the brunt of the category 5 storm. Up to three-quarters of the town's houses are said to have been destroyed or badly damaged.
Aid agencies estimate that around half of Vanuatu's population may have been affected.
Military flights from Australia and New Zealand have been bringing in emergency supplies for an estimated 10,000 made homeless on the main island.
Commercial flights were due to resume, carrying more aid and taking tourists home.
At the airport, some expressed their shock at what they had experienced.
"Devastation. This beautiful five star resort… just rubble," said one young couple.
"The people of Vanuatu, it's decimated," added one woman in tears.
With homes destroyed and widespread flooding, there are fears of diseases such as dengue fever and malaria.
The World Bank is exploring a swift insurance payout; the IMF has pledged funds and assistance.
Australia promised A$5 million (US$3.8 million, 3.6 million euros) in aid and New Zealand NZ$2.5 million (US$1.8 million, 1.74 million euros).
Britain, which jointly ruled Vanuatu with France until independence in 1980, has offered up to £2 million (US$2.95 million, 2.8 million euros) in assistance. France has also sent experts in disaster relief and mobilised the military to help Vanuatu.