'We will have to begin again' says Vanuatu president after 'monster' cyclone
Comments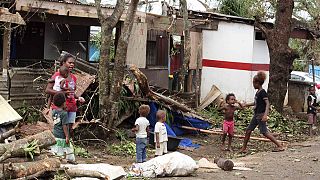 An international relief effort is underway to help survivors of Friday night's 'monster' cyclone which tore through the Pacific Island nation of Vanuatu.
Australian and New Zealand military planes are leading the way loaded with water, medicines and temporary shelters.
The southern island of Tanna, about 200km south of the capital, Port Vila with its 29,000 inhabitants, took the full force of the category 5 storm. Early reports say it has been devastated.
Speaking in Japan where he had been attending a disaster conference, President Baldwin Lonsdale said that after cyclone Pam his country will have to start again.
"There is a breakdown of communications, we cannot reach our families and we do not know whether our families are safe or not. And as the leader of the nation, my whole heart is with the whole people of the nation."
He also said he had not been able to confirm that his own family was safe.
Residents have begun trying to salvage what is left of their homes after winds of up to 300 kilometres per hour destroyed just about everything.
At least eight people are confirmed to have died but the death toll is expected to rise as rescuers reach the more remote islands.
As tourists try to get on the first commercial flights out of the popular holiday paradise aid workers are beginning to arrive.
One said the storm was comparable in strength to Typhoon Haiyan which hit the Philippines in 2013 and killed more than 6,000 people.
#CyclonePam: "Entire communities blown away…" UNOCHA</a> on relief ops scaling up for Vanuatu <a href="http://t.co/1EKyLzTvzr">http://t.co/1EKyLzTvzr</a> <a href="http://t.co/aHNi0pLTO5">pic.twitter.com/aHNi0pLTO5</a></p>&mdash; United Nations (UN) March 15, 2015