Vanuatu hit hard by Typhoon Pam
Comments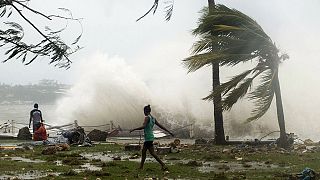 The Pacific may have seen the worst of Typhoon Pam as winds are now subsiding, but it has left a trail of destruction in her wake, notably on the island of Vanuatu.
Described as an unusually powerful hurricane, Pam crashed into Vanuatu's northeastern coast, from which there have been unconfirmed reports of dozens of deaths
In total there are 267,000 people spread across 65 islands, so detailed damage and casualty reports will take some time to come in.
Kiribati and the Solomon islands have already been badly damaged, and now New Zealand's north island is expecting to be hit by Sunday or Monday morning.
Australia was quick to offer Vanuatu assistance. The country has already warned climate change is taking farmland away, sinking the coastline and slowly drowning the islands, making extreme weather events like this much worse.