Syria: Assad shuns Kerry 'offer' of negotiations to end civil war
Comments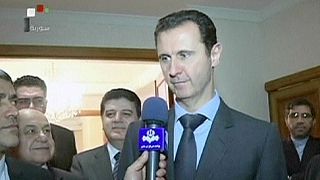 Bashar al-Assad has given a cool reception to US Secretary of State John Kerry's remarks that the Syrian leader should be included in talks to reach a political transition in the war-torn country.
Speaking as he met an Iranian minister in the Syrian capital, Assad said such statements "from outside do not concern us".
He welcomed any international change in attitude to Syria's situation as positive but
said foreign countries should stop supporting terrorist groups, a term Damascus uses for insurgents fighting his regime.
"Whether they say I remain or not, the Syrian people have the final say on this particular matter," Assad said.
With violence still raging four years after a popular uprising first started, Kerry broke with the standard US line on Sunday, raising the prospect of negotiations with Syria's president.
In an interview with US TV channel CBS, Kerry said: "We have to negotiate in the end,"
when asked whether the United States would be willing to talk to the Syrian leader.
His comments were later played down by the State Department.
France reiterated on Monday that it was maintaining its opposition to talks with President
Assad.
Syria's civil war has left more than 200,000 people dead and displaced about half the population.