Kerry: US 'has to negotiate' with Syria's Assad
Comments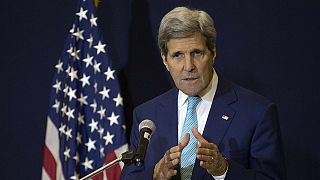 US Secretary of State John Kerry said he would be willing to talk to Syrian President Bashar Assad to stem that nation's violence.
In an interview with US network CBS News on Sunday, Kerry said the US was pushing for Assad to seriously discuss a transition strategy to quell the Arab country's four-year civil war.
"We are working hard with other interested working parties to see if we can re-ignite a diplomatic outcome. Why? Because, everybody agrees there is no military solution," Kerry said.
There was no immediate reaction in Syrian state media to Kerry's remarks.
Representatives of the Syrian government took part in talks in Moscow in January with opposition figures, although the main Western-backed opposition group shunned the conference.
Kerry spoke with CBS before leaving Egypt for Lausanne, Switzerland, where he was to resume negotiations with Iran on that country's nuclear programme.
Kerry, who was to sit down later on Sunday with Iranian Foreign Minister Mohammed Javad Zarif.
His interview was aired a day after White House chief of staff Denis McDonough sent a letter to Senate Foreign Relations Committee Chairman Bob Corker warning Congress once more that it should not interfere in the negotiating process.
More than 40 Senate Republicans – but not Corker – sent a letter to Iranian officials earlier asserting that Congress must have a say in approving any agreement.
Kerry said he doesn't know yet whether the letter sent to Iranian officials by Senate Republicans had jeopardised the talks, but said he had no doubt that it was calculated to interfere with negotiations.
In Washington, the author of the letter Republican Senator Tom Cotton of Arkansas defended it as an important message the Iranian leadership needed to hear.
Tensions between the Obama administration and lawmakers over Iran have been rising for weeks.