Netanyahu warns of 'real danger of left-wing government' in Israel
Comments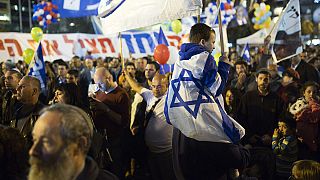 Trailing in the polls before Tuesday's elections, Israel's prime minister has warned that the right-wing government he leads could be voted out of office.
Benjamin Netanyahu called on supporters to help him secure a fourth term in office, at a rally in Tel Aviv on Sunday.
"Our rivals are investing a huge effort to harm me and the Likud, to open a gap between my party, the Likud, and (our rivals), and if we don't close this gap, there is a real danger that a left-wing government will rise to power," Netanyahu said.
He's counting on having a better chance of forming a coalition than his centre-left rivals.
Several final opinion polls suggested his Likud party would win fewer seats than the Zionist Union, whose co-leader Isaac Herzog took his campaign to Jerusalem's Western Wall on Sunday.
Soft-spoken and witty, he has focused on the economy and is said to have benefitted from voters' weariness with Netanyahu's obsession with security.
But there are doubts as to whether Herzog would be able to find stable coalition partners.
All eyes are on potential king-maker Moshe Kahlon.
His centrist party, which has highlighted social issues, is tipped to win eight to ten seats.
Both left and right have promised him a government post: Netanyahu repeated his offer on Sunday.
The former minister, who split with Likud three years ago, has
rebuffed the proposal.