Shi'ite militia and Iraqi troops continue push for Tikrit
Comments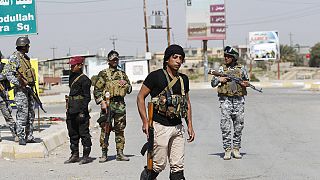 Shi'ite militias, Iranian military advisers and some Sunni tribal fighters have continued helping the Iraqi army to retake Tikrit from ISIL fighters.
Recapturing the northern Iraqi city is seen as a key step toward rolling back the extremist group, which seized much of northern and western Iraq last summer.
"They (Iraqi forces) could not reach the outskirts of the industrial quarter because of so many bombs and car bombs had been planted on the road in addition to snipers. Our troops are fully besieging Tikrit militarily," explained Khalid al-Obeidi, Iraqi Minister of Defence.
Tikrit, the capital of Salahuddin province, sits on the Tigris River about 130 kilometres north of Baghdad.
Iraq officials say as many as 30,000 men, most of them volunteers, are fighting ISIL.