People of Mariupol make chain of hope and call for peace
Comments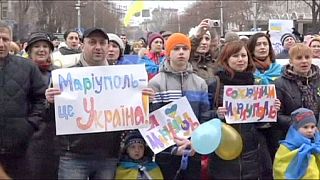 Protesters formed a human chain around the centre of the eastern Ukrainian city of Mariupol on Saturday to demonstrate against what they called Russian agression against their country.
Many expressed the fear their city of nearly half a million will be the next battleground, and called for peace.
"Today we gathered here to tell Mariupol, its surroundings, and above all its aggressors that Ukraine is a peaceful country. We want only peace and reconciliation. We are a unitary state. We do not need to be saved from anyone, and we can protect ourselves. Just let us develop," said one resident.
"It's impossible to fully check the military withdrawal on the DNR side, so we want those procedures changed somehow and new organisations involved so there are real checks on withdrawals from the DNR side.We don't want to pulling all our heavy equipment back from Mariupol and then find out the DNR have kept theirs and can attack at any time," said another.
Many of those who could leave have done so already and others are all ready to go should fighting come to this port city.