Battle for Tikrit: Iraqi forces 'advancing on city centre'
Comments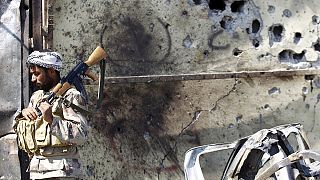 Iraqi and Shi'ite militia men have entered parts of the city of Tikrit in a key test for Iraqi forces in their battle against ISIL militants.
It is as yet unconfirmed how much of what was Saddam Hussein's home city has been retaken but Iraqi forces claim to be clearing the neighbourhoods close to the centre.
Tikrit lies on the road connecting Baghdad to Mosul.Retaking it from ISIL will give Iraqi forces a major supply link to retake their second city
Thirty thousand government soldiers and Shia militias launched their offensive on Tikrit ten days ago.
ISIL militants took control of the district last summer when they seized large swathes of territory in Iraq's north and west.
Progress has been slow but when Iraqi forces re took the town of al-Alam on Tikrit's northern edge residents celebrated their arrival.