ISIL militants release latest propaganda execution video
Comments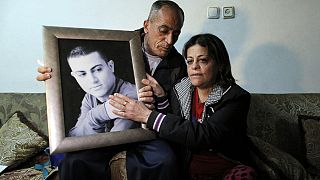 The parents of a 19-year-old Israeli Arab, who appears to have been shot dead in the latest ISIL video have denied their son way a spy.
Visibly distressed after hearing the news of their son, the father of Muhammad Musallam said he'd gone missing while on a tourist trip to Turkey.
Musallam is seen on the video, seemingly confessing to being an agent for the Israeli Intelligence Service Mossad.
He is later shot dead by a young militant described by an older jihadist as one of ISIL's "young cubs".
An Israeli official claims Musallam had left for Syria last October to join up with the militants.
The propaganda video is the latest in a series from ISIL purporting to show the killing of hostages.
Last month ISIL militants in Libya released a video showing them beheading 21 Coptic Christians.