Solar Impulse plane takes off on historic round-the-world flight
Comments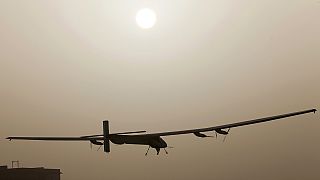 A plane powered solely by the sun has begun an unprecedented round-the- world flight after taking off from a runway in Abu Dhabi on Monday.
The aim of the project is to prove that such a feat is possible without a drop of fossil fuel.
Two Swiss pilots, Bertrand Piccard and Andre Borschberg, will take turns at the controls of the Solar Impulse 2 for five consecutive days and nights in the air.
Amazing image! RT 7DAYSUAE</a>: Solar Impulse 2 soars over <a href="https://twitter.com/hashtag/AbuDhabi?src=hash">#AbuDhabi</a> on first test flights - <a href="http://t.co/y5Z3qxXhpc">http://t.co/y5Z3qxXhpc</a> <a href="https://twitter.com/hashtag/UAE?src=hash">#UAE</a> <a href="https://twitter.com/hashtag/solar?src=hash">#solar</a> <a href="https://twitter.com/hashtag/solarenergy?src=hash">#solarenergy</a></p>&mdash; Claire Sharrock (ClaireSharrock) March 1, 2015
"I guess we're both in the level of excitement which is special, but excitement but also concentration and simply happiness," said Borschberg before taking his place in the tiny cabin for the first leg of the epic voyage.
In the project's control room in Monaco, Prince Albert in person was there to witness take-off.
The first stopover will be Oman on a a 35,000 kilometre journey spanning continents and crossing the Pacific and Atlantic Oceans.
The plane, which has the weight of a family car (2,300 kg) and a wingspan equal to that of the largest passenger airliners, is due back in Abu Dhabi by late July.
By then, organisers hope it will have highlighted clean technologies – and made history.