Solar Impulse 2 reaching for zero emissions record
Comments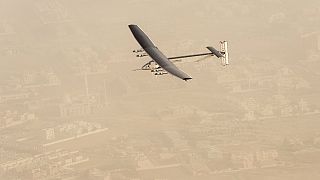 The single-seat aircraft Solar Impulse, whose sister plane Solar Impulse 2 has now set off to circle the globe, originally left the ground, about one metre up, on 9th December 2009, in Dübendorf, Switzerland. The hop of 350 metres along the runway marked the end of the engineering phase and the start of flight testing.
The project to loft a non-polluting plane burning no fuel flying day and night accomplished an 87-minute test flight in May 2010, charging its lithium batteries in the air, and then set a breakthrough 26-hour record in July.
The second of the project's aircraft, Solar Impulse 2, first took off in June last year.
The more than 17,000 photovoltaic cells drive four electric motors of just over 17 horsepower each. Maximum speed is 140 km/hr. Cruising speed by day is 90 km/h, and 60 km/h at night to save power.
The wingspan of 72 metres is just a little less than an Airbus A380's 80 metres from wingtip to wingtip.
But Solar Impulse 2 is hundreds of times lighter than the Airbus. Made largely of carbon fibre, Solar Impulse 2 weighs about the same as a family size 4×4 car: 2,300 kg.
Project co-founder Bertrand Piccard, a Swiss psychiatrist, described the latest, greatest exploit planned for the aircraft that has been 12 years in development: "We will start from Abu Dhabi, cross India and China — these will be legs of 24 hours each — and then [make] the big jump to Hawaii and to the United States, the big jump over the Atlantic to Southern Europe or Northern Africa, and then a very, very long flight back to Abu Dhabi, in order to finish the complete circle."
The five month, 35,000 km journey is to be broken into 25 flight days. Project co-founder André Borschberg has also been training for the five day and night blocks flying solo for some stretches.
The Swiss businessman said: "We plan to rest, or sleep, for a maximum of 20 minutes at a time, and then we have to re-establish contact with the control centre, check that everything is working properly, and then maybe have a second break."
The two pilots will have a 65-strong logistical support team along the route, and the same number in Monaco.
The project aims to demonstrate renewable energy innovation and solutions for environmental challenges.