Israel's Arab citizens brandish new electoral power
Comments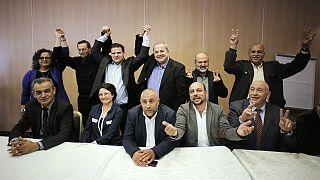 Israel's elections for parliament next week [17th March] hold the potential not only of a new prime minister emerging, with a move towards centre left, but also of a change in the main opposition force, with Arab Israelis represented as never before.
Haneen Zoabi has advocated for Palestinian causes as an MP in Israel's Knesset since 2009.
The handful of Arab members in parliament have often been reviled as enemies within the system.
Last week, a violent heckler forced Zoabi to leave a public electoral debate.
Zoabi has been accused of supporting armed struggle against Israel's occupation of Palestinian land.
She accuses Prime Minister Benjamin Netanyahu of furthering apartheid, and claims she is fighting racism.
Zoabi said: "We are challenging a discriminatory Zionist project which defines this state as a Jewish state, which legislates privileges for the Jews over the Palestinians. We are the owners of this land. We are the natives, and with this vision we participate in the Knesset."
In this election, the Palestinians have a chance to increase leverage. For the first time, Israel's four Arab parties have grouped together, forming a common candidates list. This could bring out the Arab Israeli vote and tip the political balance.
The descendants of the Palestinians who did not leave the country as the state of Israel was created in 1948 number 1.4 million. They represent some 20 percent of the population of eight million, and are mostly Muslims.
Of the outgoing Knesset members, eleven represent them, out of a total of 120 members in different parties.
Traditionally, Arab Israelis have voted less than the rest of the country, 56 percent participating in 2012 compared to 67 percent overall.
Joint List election campaigner Osamah Kahawish said: "If Arab citizens go out and vote for the Joint List and it gets 15 seats or more, it will be a historic step, because that might help the Arabs gain influence in the parliament, over legislation and budgets and all aspects of life relating to Arab citizens in this state."
Facing Israeli Foreign Minister and right wing leader Avigdor Lieberman, the leader of the Arab Israeli candidates remained calm in a televised panel debate.
Lieberman said: "You act to destroy the state of Israel from within. You are a fifth column. You represent terror organisations in the Israeli Knesset."
Joint Arab List leader Aymen Odeh said: "I am worried that the word 'democracy' will become a dirty word in the next election, because of this man."
Odeh advocates an Arab-Jewish alliance to fight discrimination and inequality.
He has said his party would sit in opposition and not join a government.
His very recommendation whom the president nominate as next prime minister could prove decisive.