ISIL-held refinery in Syria is hit in US-led airstrike
Comments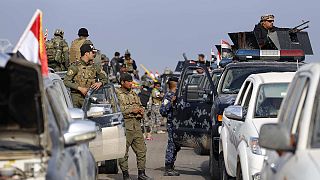 Dozens of people have been reported killed after US-led planes hit a petrol refinery controlled by ISIL militants in the Syrian border town of Tel Abyad.
Witnesses also told of strong explosions blowing out windows of nearby houses.
Fierce fighting against ISIL is continuing elsewhere in the country. Kurdish militias and their allies are battling to take Hasaka province in northeastern Syria.
The area bridges ISIL held ground around Raqqa with territory the group holds in Iraq.
Social media video purports to show Free Syrian Army fighters engaged in mopping up operations.
In Iraq security forces and Shi'ite militia have taken control of the centre of a town on the southern outskirts of Saddam Hussein's home city of Tikrit.
The campaign in the area is the biggest offensive so far against ISIL insurgents. If they re-take Tikrit it will be the first time the Iraqi army and militias have recaptured a major city from the militants.