Iraq calls for international air power to stop ISIL wrecking priceless heritage
Comments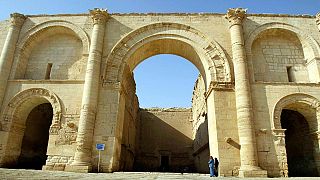 Iraq is calling for air power to be used to stop ISIL militants destroying the country's archaeological treasures.
The US-led coalition – which has been targeting positions since last summer – is being accused of not doing enough to protect priceless heritage.
The ancient site of Khorsabad in northern Iraq is thought to be the latest victim.
Officials say Hatra has already been bulldozed by militants, after an assault on the ancient Assyrian city of Nimrud.
"I am sure many others share my opinion that slow action by the international coalition against these groups and their crimes has encouraged them to attack, destroy and pillage," said Adel Hirshab, Iraqi Tourism and Antiquities Minister.
The destruction is being widely condemned, with the UN describing the wrecking spree as a "war crime." But it has done nothing to stop the militants.