Jordan-Israel gas deal fuels protest in Amman
Comments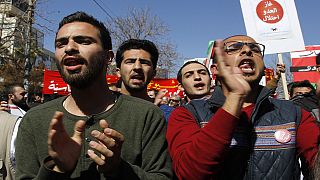 Hundreds of protesters have taken to the streets of Amman, as anger boils over a gas deal between Jordan and Israel.
The Jordanian government is being accused of fueling the murder of Palestinians.
Critics are calling for all agreements to be scrapped.
"We are gathered here today because we are completely against Jordan buying gas from Israel. It's actually not Israeli gas, it's actually Palestinian gas that has been stolen by Israel," said Lujain al-Fayez, an anti-Israel protester.
"We are against it because there are Palestinians who are dying every day, and by buying this gas we are actually funding the murder of these Palestinians."
The multi-billion euro gas deal was signed in 2014. It will see Israel supply natural gas to Jordan for the next 15 years.