Nemtsov's companion held 'against her will' by investigators in Russia
Comments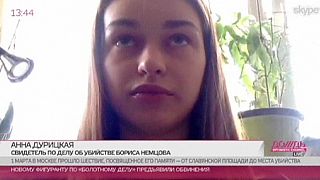 Boris Nemtsov's companion Ukrainian model Anna Duritskaya says she is being held against her will by Russian investigators and she wants to leave Russia.
"Now I am a witness," Duritskaya told Russian TV channel Dozhd. "I told them everything I know, and I do not understand why I am still in the Russian Federation, as I want to go to see my mother who is ill and in a very difficult psychological state."
The couple had been dating for three years and had been together at the time of the murder, but when asked where the killer emerged from she said she didn't see him because everything happened behind her back.
"When I turned back I only saw a light-coloured car, but I did not spot the make of the car driving off, or the number plates," said Duritskaya.
The Ukrainian foreign ministry has demanded Duritskaya's release and return to Ukraine because it says Russian law does not prevent her freedom of movement.