Interview: The consequences of Boris Nemtsov's murder
Comments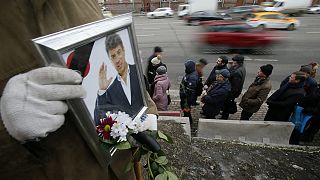 Péter Balázs, professor at the Central European University in Budapest spoke to euronews about the murder of Boris Nemtsov.
euronews: The Nemtsov murder has shocked Russia and the entire world. Tens of thousands of people marched through Moscow, something we haven't seen since 2011. What effect will this murder have on the Russian opposition parties. Is it frightening them or is it reinforcing their unity?
Péter Balázs: The possible aim of the perpetrators was to frighten the opposition. But a political murder quite often has the opposite effect, and can result in a powerful reaction.
When weapons are used it triggers a reaction. People start to mobilise, they start to realise the injustice and protests begin, just like we saw in Moscow.
euronews: What impact will his death have on world politics?
Péter Balázs: I think it will definitely have an impact. Sometimes there is an unexpected effect of such an evil political action. I think that Boris Nemtsov's martyr death can set off such events that can make people in Russia and outside the country realise the importance of taking action and the importance of the political process.
They might realise the necessity to act against dangerous political tendencies, and in my opinion the situation is even more serious, because of the political isolation, that Russia has driven itself into.
euronews: Thank you.