Russia: floral tributes pile up at Nemtsov murder scene
Comments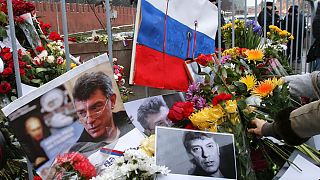 People in Moscow continue to leave floral tributes at the scene where Boris Nemtsov was slain over the weekend.
The opposition politician and fierce critic of the Kremlin was gunned down while walking home from a nearby restaurant on Friday night.
"I'll remember him as a brave man, honest and with strong principles," said Dmitry Denisov who travelled from outside of the capital to lay flowers. "We have very few of those left in our country now."
"It is possible (that Nemtsov was killed) because of his business," said local resident Yelena Malyutina, who continued, "or because he had this young girlfriend who had another admirer, because of some jealousy or something. I do not think it (his murder) was political, he wasn't in the way of anybody in politics."
The killing came two days before Nemtsov was due to lead a big rally through the centre of Moscow against the war in Ukraine.
That rally transformed into a memorial march, which brought tens of thousands of people onto the streets of the capital.
Russian president Vladimir Putin has vowed to pursue Nemtsov's killers.
Investigators are following several lines of inquiry including the possibility that Nemtsov, who was Jewish, was killed by radical Islamists.
Nemtsov's funeral is planned for Tuesday.