Thousands pay tribute to murdered Russian opposition politician
Comments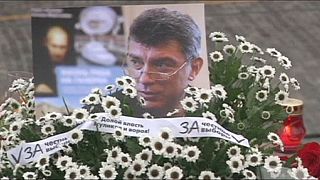 All day Saturday thousands of people laid flowers and lit candles in tribute on the bridge where Boris Nemtsov was murdered on Friday night. They included other prominent opposition politicians.
"I would say this not only a blow to the opposition but to the whole of Russian society. It is a blow to Russia", said another opposition leader Sergei Mitrokhin. "If political views are punished in this way then this country simply has no future."
President Vladimir Putin condemned the killing as "vile and cynical" and he vowed to find the killers.
Russia's Investigative Committee says it is looking into a number of possible motives including Boris Nemtsov's opposition to the war in Ukraine.
But some of his allies think whoever shot him did it because of his opposition to Vladimir Putin.
Activists called off a planned march on Sunday that Nemtsov had helped organise. It was to protest against Kremlin policy on the economy and Ukraine.
Instead it will be a memorial march for Nemtsov.