Jailed Kurdish leader calls for and end to the PKK's armed struggle against Turkey
Comments
By
Euronews
with
Reuters, Huffington Post, BBC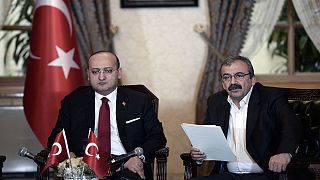 The jailed leader of Turkey's largest rebel Kurd group has called for it to disarm and end to its thirty year armed struggle.
Abdullah Ocalan said the main goal now is to establish a democratic solution.
In a statement read out by another PKK member, he invited members to attend an extraordinary meeting in spring to ratify the decision.
The Turkish President, Tayyip Erdogan,
welcomed the call, but urged caution:
"Disarmament was a very significant expectation for us but I have to stress that those who have to lay down their arms are the members of this terrorist organisation."
The PKK is demanding greater autonomy and cultural rights for Turkey's estimated 15 million Kurds.
The armed insurgence has claimed more than 40,000 lives since it started in 1984.