Thousands rally in Athens as Syriza faces backlash over bailout
Comments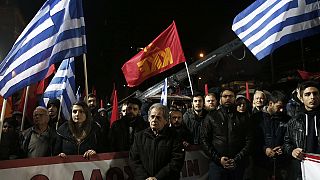 In Greece, there have been fresh anti-government demonstrations.
It comes after a deal was struck last week with EU partners to extend an aid programme to Athens. That agreement has sparked claims the government is going back on its pre-election promises.
But speaking exclusively to euronews, Greece's Prime Minister Alexis Tspiras denied performing a u-turn. He also welcomed Germany's decision to allow a four-month extension of the loan deal between Athens and its creditors.
Sentiments shared by Greece's former prime minister George Papandreou: "Despite the rhetoric, I think what we have seen is that first of all Germany has not lost out in this process of supporting not only Greece, but other countries too, through this financial crisis, the sovereign debt crisis. On the other hand, Greece has made major strides in the last few years. We have been able to come to a primary surplus with huge sacrifices by the Greek people."
Germany's parliament approved an extension of Greece's bailout on Friday with 542 members voting "yes" while 32 opposed.
Those against included a record number of dissenters from Angela Merkel's conservatives which highlights growing scepticism in Berlin about whether the new Greek government can be trusted to deliver on its promises to reform.