Germany votes to approve Greek bailout extension
Comments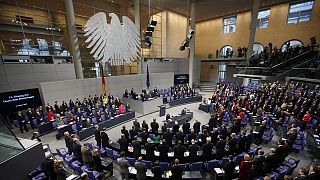 Germany has voted to extend Greece's loan extenstion by the largest majority on any eurozone bailout vote since the crisis began.
Despite voicing doubts about whether Athens' new radical left government can be trusted to deliver on its reform promises, Finance Minister Wolfgang Schauble told the Bundestag that Greece would not be allowed to blackmail eurozones partners and urged MPs them to approve the extension.
"We're not talking about new billions for Greece, we're not talking about any changes to this programme – rather it's about providing or granting extra time to successfully end this programme," he said.
Though the vote was passed by 542 for, 32 no, with 13 abstentions the debate showed that the issue divided the country and mounted substantial rebellion within the ranks of Chancellor Merkel's CDU/CSU party, with 28 of her party's MPs voting against. A poll this week showed only 21 percent of Germans backed an extension. An MP from the coalition SPD party Axel Schafer, holding up the BILD newspaper, showed his distaste at the front page.
#Germany | Schäfer (SPD): We are all against campaigns that target other countries (showing BILD</a> frontpage). <a href="https://twitter.com/hashtag/Greece?src=hash">#Greece</a> <a href="http://t.co/WYYxpH8zNX">pic.twitter.com/WYYxpH8zNX</a></p>&mdash; Yannis Koutsomitis (YanniKouts) February 27, 2015
RT dgatopoulos</a>: Voting live in German Parliament on Greek extension follow at <a href="http://t.co/Ji6TIz3xpV">http://t.co/Ji6TIz3xpV</a> <a href="https://twitter.com/hashtag/Greece?src=hash">#Greece</a> <a href="http://t.co/HL1ugsj5Jt">pic.twitter.com/HL1ugsj5Jt</a></p>&mdash; Muschelschloss ☕ ️ (Muschelschloss) February 27, 2015
Though Greece has been granted a credit lifeline, Germany has made no secret of its disapproval of what it considered the 'loutish' behaviour of the ruling Syriza party, with most ire reserved for Greek Finance Minister Yanis Varoufakis.
The vote in the Bundestag represented the biggest hurdle to the Greek loan extension, but it also faced similar approval votes in other eurozone countries. The Netherlands and Estonia have now approved, and Finland is yet to pass judgement.
The pressure is now on Athens to approve reforms which are expected to be put to parliament next week. The KKE communist party have scheduled a rally in Athens for Friday night to protest against the loan deal.