Riots in Athens as left-wing supporters vent their anger at newly-elected premier
Comments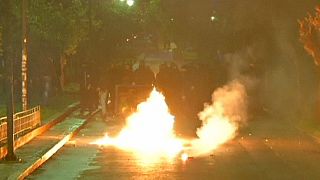 Greek police clashed with rioters in central Athens on Thursday in the first disturbances since the left-wing Syriza government took power.
The far-left protesters threw petrol bombs and burned cars as they vented their anger at the administration of newly-elected premier Alexis Tsipras.
Some people are particularly angry about the deal struck with EU partners last week to extend the bailout programme.
Even some members of Tsipras's own Syriza party have accused him of going back on election promises, including a pledge to end the 240 billion euro bailout and the austerity measures that go with it.