Qatar 2022 World Cup set for December Final
Comments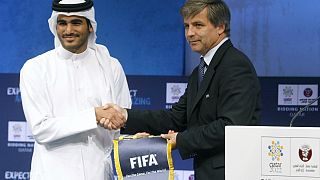 Season's greetings for 2022 from Fifa. Football's world governing body is poised to move the Qatar World Cup finals from the summer to deep mid-winter with the final kicking off on December 23.
The tournament will also be shortened by a few days. The decision is expected to be ratified by Fifa's ExCo committee.
The announcement was made by a Fifa task force after fears the soaring summer temperatures of the Gulf State would be dangerous.
"All the minutes and all the discussion that has been discussed today will be put on the table at the EXCO meeting next month. As I said, you know, my personal feeling will be November-December. We will see," Sheikh Salman Bin Ebrahim Al-Khalifa,Head of the Asian Football Confederation told reporters.
The announcement is the latest twist in a World Cup which has been overshadowed by controversy including allegations of collusion and corruption in the bidding process.
The change of dates has the potential to set Fifa on a collision course with major European football leagues.