Ukraine says it cannot start to withdraw heavy weapons from the east
Comments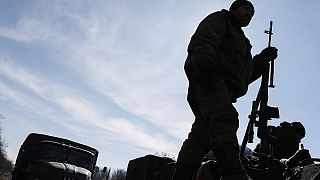 The Ukraine military cannot start to withdraw its heavy weapons from the front line in the east as separatist rebels have not ceased firing, a spokesman said.
Kyiv called on Russia to bring its influence to bear on the rebels while Germany voiced concern there is still no "comprehensive ceasefire" in place.
Kyiv said two of its soldiers were killed in overnight fighting while rebels reported one death on their side.
"Main forces of rebels are concentrated in the direction of Donetsk and Horlivka. At the same time, the enemy does not give up attempts to storm our positions in the residential area of Shirokine and in the direction of Mariupol," told reporters.
In Donetsk there were celebrations for an annual holiday originally known as Red Army Day which is celebrated across the former Soviet Union.
Medals were awarded and Russian flags waved in the shadow of a giant statue of Lenin in the main square.
It's believed the rebels will not start their pullback of fighters until the public holiday is over.