Kyiv says it can not withdraw heavy weapons while still under attack
Comments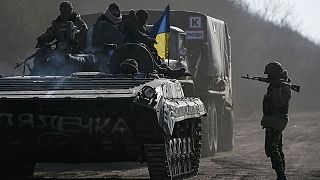 Ukraine's military said it can not start withdrawing heavy weapons from the front line in the east, as required under a ceasefire,because it said pro-Russian separatists who advanced last week were still attacking its positions.
Kyiv says it fears the rebels, backed by reinforcements of Russian troops it says, are planning to advance deeper into territory the Kremlin calls "New Russia." Moscow denies helping the rebels.
Pro-Russian rebel Alexander spoke in Lohvynove about the Ukrainian positions.
"As usual it's mortars, howitzers, and tanks firing at us," he said. Pointing to Ukrainian positions, he continued, "Over there in that village they still have intact Uragan and Smerch [rocket launchers]."
A rebel commander quoted by Reuters said the separatists would now begin pulling back heavy weapons from the frontline.
An overnight prisoner exchange has been one of the most concrete moves yet since the Minsk truce was agreed over a week ago.
Reuters journalists in the village of Zholobok, west of the rebel stronghold of Luhansk, watched as more than 130 Ukrainian servicemen were released in return for 53 rebel fighters.