Alaa Abdel Fattah sentenced by Egypt court
Comments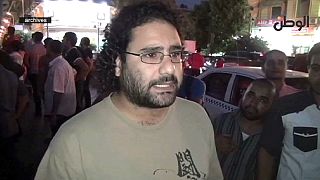 Prominent activist Alaa Abdel Fattah has been sentenced to five years in jail by an Egyptian court for breaking protest laws, branded repressive by rights groups. After the verdict was ruled out the court erupted into chants of "Down, down with military rule".
Alaa Abdel Fattah came to prominence as a blogger and was a leading secular figure in the revolt that toppled veteran autocrat Hosni Mubarak.
He was one of 25 defendants who were previously given 15-year jail terms each in absentia for violating the law, but he was freed on bail last year.
Earlier on Monday the same court which sentenced Alaa Abdel Fattah adjourned until March 8 the tr ail of two Al Jazeera television journalists who are charged with aiding a terrorist organisation.