Ukraine detains suspects after Kharkiv blast
Comments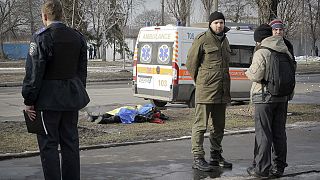 Ukrainian authorities have detained four suspects after an explosion killed at least two people and wounded fifteen others at a peace march in the government-controlled city of Kharkiv.
An aide to the head of the security services said the suspects were Ukrainian citizens who had received weapons and training from Russia.
Kharkiv is the largest city in Ukraine's mainly Russian-speaking east, and lies more than 220km away from the conflict zone where fighting continues despite a ceasefire deal.
The rally was part of a series of events across Ukraine over the weekend to commemorate the deaths of 100 protesters during the popular uprising which ousted pro-Russian President Viktor Yanukovych last year and led to the conflict in the east which has claimed more than 5,000 lives.