Prisoner exchange boosts Ukraine peace deal
Comments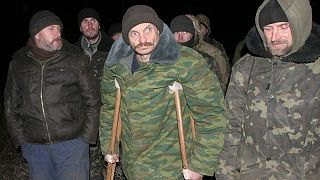 A ceasefire is proving difficult but pro-Russian rebels and government forces have exchanged dozens of prisoners in eastern Ukraine in line with the latest peace agreement brokered by France and Germany.
The handover of 139 Ukrainian soldiers and 52 separatists will be seen as a success for this month's Minsk accord.
But away from the frontline, amid accusations over non-respect of the deal, the United States and its European allies are in talks about harsher sanctions against Moscow.
"So far, Russia and the separatists are only complying in a few areas selectively – not in Debaltseve, not outside Mariupol and not in other key strategic areas," US Secretary of State John Kerry told reporters
in London after meeting his British counterpart Philip Hammond.
"That is simply unacceptable. If this failure continues, make no mistake, there will be further consequences, including consequences that would place added strains on Russia's already troubled economy."
Kerry said that other options being considered by US President Barack Obama included whether to arm Ukrainian forces.
"In the next few days I anticipate that President Obama will evaluate the choices that are in front of him and will make his decision as to what the next step will be," Kerry told the news conference.
OSCE observers have now been able to access Debaltseve, the strategic town captured by rebels despite the ceasefire.
The monitors said they heard artillery fire nearby as reports of truce violations continue.
Despite claims that the rebels are set to begin withdrawing heavy weapons from the frontline, Kyiv fears the separatists now have the port city of Mariupol in their sights.
An attack on Mariupol, a city of half a million people and potentially a gateway to Crimea, which Russia annexed last March, would almost certainly kill off the truce that aimed to end the 10-month-old conflict.