"There is a general ceasefire but there are exceptions," says OSCE on Ukraine truce
Comments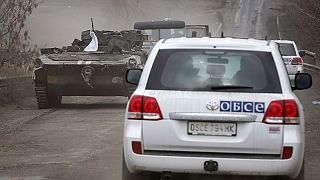 Sporadic fighting has pierced the fragile ceasefire in east Ukraine. The OSCE which is charged with monitoring the truce which entered into force five days ago has observed a limited number of violations varying from heavy shelling to continuous gunfire. Euronews spoke to Michael Bociurkiw – Spokesperson for the OSCE Special Monitoring Mission to Ukraine to get a clearer picture.
"There is a general ceasefire but there are exceptions, there are hotspots. First of all we do have a team of observers in Mariupol and I can tell you the situation as of last night, until 18:00, over the previous 24 hours period. There was about 20 or 30 kilometres east of Mariupol quite a lot of shelling. That's relatively new phenomena since the peace deal took effect."
The Ukrainian government has accused Russia of sending troops towards Novoazovsk near to Mariupol, saying the town is the next objective for the separatists to capture. Moscow is yet to respond.
"The other were some hotspots in Donetsk city including around the airport," Bociurkiw continued saying,"there was some shelling overnight, but over again same 24 hour of period. We are talking about Luhansk and Donetsk, we have about 12 or so different hotspots in which we're keeping a close eye on. The way we're keeping an eye on is through patrols – we have 20 patrols active right now in the conflict zone – and the also we have unmanned aerial vehicules, which have been based all of this time in Mariupol."
Earlier in the week, the pro-Russian rebels captured the town of Debaltseve from government forces in clear breach of the ceasefire, making work impossible for the OSCE.
"The rebel side would not guarantee us, secure us passage to Debaltseve, hence that's the equivalent of blocking us, not giving us passage. We are an unarmed civilian mission and unless we have safety guarantees we cannot go to certain places."
The OSCE has repeated calls to be let in to Debaltseve after saying they were profoundly disturbed by reports from inside the town.
EU leaders are discussing new sanctions on Russia over the crisis in Ukraine. The possible further sanctions were announced by European Council President Donald Tusk in Brussels on Friday.