'Timbuktu' triumphs at French cinema's César awards
Comments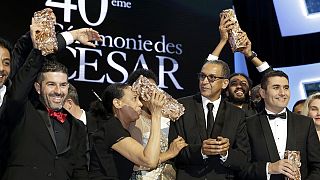 They are the French equivalent of the Oscars and Hollywood royalty was in Paris on Friday as Sean Penn collected an honorary prize at the 40th annual César awards.
"Timbuktu" was the big winner, scooping seven gongs including Best Film and Best Director for Abderrahmane Sissako.
Also nominated for an Oscar, Sissako's picture dramatises the takeover of the Malian city of the same name in 2012 by a rebel group enforcing strict Islamic law.
The Best Actress winner was Adèle Haenel, 26, for her role as a rebellious and impulsive young woman in the atypical romantic comedy "Les Combattants" or "Love at First Fight".
The Best Actor award was announced by Juliette Binoche and Kristen Stewart, 24, who went home with a Best Supporting Actress prize for "Sils Maria", the first American actress ever to win a César.
Best Actor was Pierre Niney, 25, who brings Yves Saint Laurent to the screen in "Yves Saint Laurent" – one of two nominated films about the late fashion designer.
And a former TV talent show star, 18-year-old Louane Emera, was named best female newcomer for her role in the box office favourite "The Belier Family", playing a rural teenager whose brother and parents are deaf but who hopes to conquer Paris with her singing voice.