Ukraine's retreating troops say rebels ignored Minsk cease-fire orders
Comments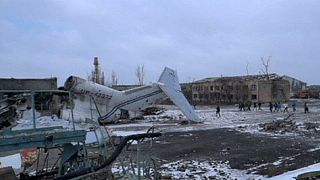 The Minsk ceasefire agreement did the 25,000 inhabitants of Debaltseve little good, in the heart of the fighting that continued in eastern Ukraine. Kyiv's army was unable to defend it against the pro-Russian forces' sustained assault. Italian Rai 3.
The taking of Debaltseve by pro-Russian troops was accompanied by various political reactions from Ukraine, Russia and the European Union. Portuguese RTP.
Meanwhile, Donetsk, the biggest pro-Russian separatist-controlled city, is largely destroyed. A Spanish TVE television crew visited a psychiatric hospital.