Swiss prosecutor raids HSBC office as criminal inquiry opens
Comments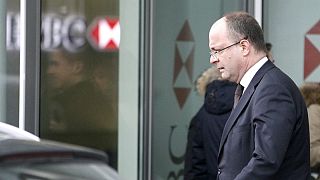 The offices of HSBC in Geneva have been raided by Swiss prosecutors in a criminal inquiry into allegations of aggravated money laundering.
It comes more than a week after claims first emerged in the media about how its Swiss private bank allegedly helped wealthy clients dodge taxes
HSBC says it is co-operating with Swiss authorities.
"The aim of this investigation is precisely to check whether the information that was made public is legitimate and whether in fact blame can be apportioned either to the bank, or individuals whether they are working for the bank or customers," Attorney General Olivier Jornot told reporters.
Leaked information published in France's Le Monde newspaper and other media outlets has sparked investigations internationally into HSBC which has admitted it was
"accountable for past control failures" but had now "fundamentally changed".
Having a Swiss bank account is not illegal and many are held for legitimate reasons.
But now Switzerland – still widely seen as an ultra-secret haven in which the world's richest can stash their cash – is keen to show that it is taking action.