Meet the crowdfunding rescuers who save migrants in peril at sea
Comments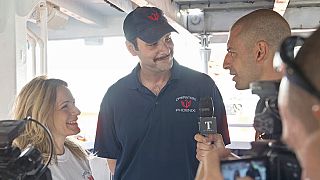 While fingers are being pointed over the latest migrants tragedy in the Mediterranean, a special humanitarian project is busy crowdfunding for its next rescue mission.
The Migrant Offshore Aid Station (MOAS), based in Malta, says it helped save around 3,000 Europe-bound migrants over just two months last year.
MOAS, founded by entrepreneurs Christopher and Regina Catrambone, claims to be the world's first privately-funded mission to help migrants in trouble at sea. It is now appealing for funds so it can continue its work in 2015.
It comes after the UN's refugee agency revealed more than 500 migrants had died since Italy's search-and-rescue mission was replaced by the EU's cheaper, less pro-active operation Triton on November 1, 2014.
Brigadier Martin Xuereb, director of MOAS, told Euronews: "I think it's very important to remove the politics out of search-and-rescue and try and see the issue of the perspective of those people who feel compelled to do the crossing.
"Last year we saved family units and pensioners who would never have left their homes in Aleppo or wherever unless they really had to.
"People leave because the push factors are so great.
"When I think of the loss of life at sea I never think about the hundreds or thousands. I think of one eight-year-old boy whose face I saw when the pathologist opened the body bag. When I think of his face, it was a face of an angel.
"We would ask people to look at people crossing as human beings who do not wish to be dying out at sea."
MOAS is looking to operate April to October this year, traditionally the busiest time for migrants making the crossing.
Brigadier Xuereb, formerly Malta's chief of defence, said they had raised 70,000 euros so far; the operation costs up to 500,000 euros a month to run.
Christopher and Regina Catrambone founded the charity in 2013, inspired to act after hundreds of migrants died off Lampedusa.
The philanthropists, who own businesses in Malta, pumped in 8 million euros to buy a boat, equipment and fund a 60-day mission last summer.
Mr Catrambone, helped in the mission by his daughter Maria Luisa, said: "When we created MOAS, we wanted to be out at sea and prove our concept. We've done that and now the onus is on the public to step up and fund projects like MOAS that can continue saving lives.
"Having Phoenix [MOAS' rescue boat] sitting here while people are dying is something that we want very much to change. We want Phoenix to be out at sea helping people and this is something we're focusing on."
To help MOAS visit the donations page on their website.
Photo credit: MOAS