Two people wounded in Afghan capital explosion
Comments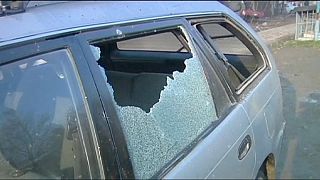 Two people have been injured in a blast from a bomb attached to a vehicle in the Afghan capital Kabul.
The city's police chief gave no further details of the wounded person.
The device exploded in the east of the city, sending a plume of black smoke in to the air.
"I was walking through the area when there was a loud blast," said one eye-witness. "I saw two policemen were wounded in the explosion and we took them to hospital."
On Monday a female politician died after a bomb attack on her vehicle in eastern Afghanistan.
Angiza Shinwari, who was in her mid-thirties, was starting her second term as a provincial council member in Nangarhar. Her driver was also killed in the blast and four other people injured.
These latest attacks mark the end of what had been a lull in such incidents.
Late last year there was a string of bombings by insurgents in the run up to the withdrawal of most foreign combat troops from the country after 13 years of fighting.