Hezbollah warns ISIL is a 'great danger'
Comments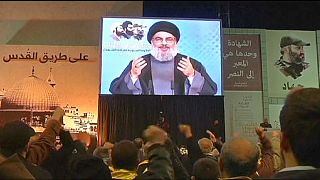 The leader of Hezbollah has strongly denounced ISIL's beheading of the Egyptian Christian hostages and called on regional governments to work together to confront the extremists.
The message was part of an address by Sayyed Hassan Nasrallah urging Lebanon to cooperate with Syria in a cross border crackdown on hardliners:
"I call for the Lebanese army and the Syrian Arab Army to work together before the snow melts on the Eastern mountain range allowing the militants to move more freely," said Nasrallah..
Shia Hezbollah has positioned itself in the vanguard against Sunni extremists such as ISIL. In Syria it has allied itself with President Assad's army against both non jihadist rebels and insurgent groups including al Qaeda's Nusra Front.
After a week of heavy fighting in southern Syria Hezbollah is now warning neighbouring Lebanon that it must overcome political differences in the fight against ISIL.