Greece confident of new bailout deal to avoid euro exit
Comments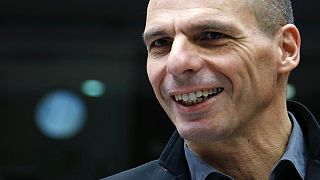 Talks in Brussels between Greece and its eurozone creditors collapsed in disarray on Monday night but Athens says it is confident a deal can still be reached.
Greece's Finance Minister Yanis Varoufakis insists a compromise will be found to avoid the country's exit from the single currency.
"I have no doubt that within the next 48 hours, Europe is going to come together, and we shall find the phrasing that is necessary so that we can submit it and move on to doing the real work which is necessary to establish common ground and build a new contract between Greece and Europe."
But the Dutch chairman of the eurogroup of finance ministers said he wants Athens to prolong its bailout package.
"The best way forward would be for the Greek authorities to seek an extension of the programme. The main reason for that is that given the ongoing discussions about how programmes should work and (what) a future arrangement for Greece should look like, we simply need more time," said Jeroen Dijsselbloem, Dutch Finance Minister and Eurogroup president.
All eyes are now on the European Central Bank, which must decide on Wednesday whether to extend Emergency Liquidity Assistance (ELA) funds to keep them afloat while the crisis unfolds.