Egypt's bombing of ISIL in Libya shows militant threat spreading
Comments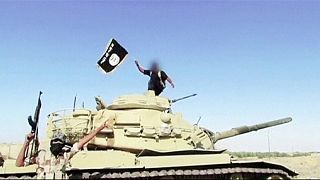 Western concern is growing that the radical group ISIL (Islamic State) is exploiting the discord of two separate Libyan governments struggling for control of the country.
The attack on the luxury Hotel Corinthia, a little over two weeks ago in the centre of the Libyan capital, Tripoli, was claimed by the Islamist militants. They killed nine people, among them five foreigners.
This comes four years after NATO forces helped rebels in a Libyan civil war remove the strongman of four decades Muammar Gaddafi.
The chaos of rival groups battling each other means ISIL has been able to expand its military base against Egyptian forces.
The Egyptian Armed Forces airstrikes against ISIL camps and weapon stores in Libyan territories targeted Sirte, Ben Jawad and Derna.
Egypt faces similar deadly confrontations in the desert to the east — militants based in Libya have made contact with Sinai Province, a group operating from Egypt's Sinai Peninsula that has changed its name from Ansar Beyt al-Maqdis and pledged allegiance to Islamic State.
Egypt, the most populous Arab state, has not previously taken part directly in the US-led air strikes against Islamic State targets in Iraq and Syria, focusing instead on the increasingly complex insurgency within its own borders.
Jordan is a key coalition participant. Its warplanes stepped up attacks against the jihadists in Syria after ISIL captured one of its pilots and burned him to death, re-naming their air operations after him, calling the mission 'Martyr Muath'.
Saudi Arabia and the United Arab Emirates are in the air striking at ISIL, as well, followed by Bahrain.
On the ground, only the northern Iraq-based Kurdish Peshmerga have stood against ISIL.
Cairo's call on the US-led coalition fighting Islamic State in Iraq and Syria to include Egypt's neighbour Libya highlights how the militant group is expanding around the Arab world.