Police kill suspected gunman after deadly Copenhagen attacks
Comments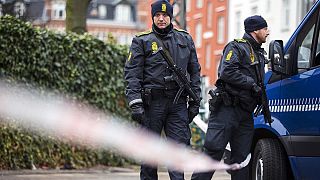 Police shot and killed a man in Copenhagen early on Sunday, believed to have been the gunman behind two deadly attacks that left the Danish capital on terror alert.
The man is said to have opened fire on officers near a railway station in the capital. Police had been observing an address nearby. They say they returned fire and killed him.
Danish authorities say nothing indicates there is more than one suspect for the shootings that saw Copenhagen put into lockdown.
Around midnight a gunman had targeted the city's main synagogue, shooting a man in the head, who later died of his wounds. Two police officers were injured. The attacker fled.
A Jewish community group says the victim was a young Jewish man who had been keeping an check on access to the synagogue where a ceremony was underway inside.
Earlier on Saturday dozens of shots rang out outside an arts cafe in
the city where a debate to promote free speech was being held.
A gunman was trying to shoot his way inside, in an attack which bore similarities to the deadly shooting in Paris last month at the offices of the satirical newspaper Charlie Hebdo.
Unlike then, where the gunmen were able to commit mass murder, the Copenhagen attacker couldn't get in.
He did however shoot one man dead, a 55-year-old, and injure three police officers before escaping.
The free speech debate was hosting controversial Swedish cartoonist Lars Vilks who has been threatened with death for his pictures of the Prophet Mohammad.
He has lived under police protection since 2010.
French Ambassador to Denmark Francois Zimeray was also present.to praise Denmark's support for freedom of speech following January's attacks in Paris.
Both men were uninjured.
France, still reeling after the Paris shootings which left 17 people dead, including at a kosher supermarket, was sending its Interior Minister Bernard Cazeneuve to Copenhagen in a show of solidarity.