Kenneth Branagh's Cinderella premiers at Berlinale 2015
Comments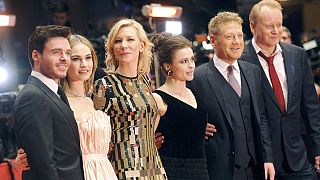 British director Kenneth Branagh's adaptation of Cinderella got its world premiere at the 65th Berlin Film Festival on Friday.
The movie has been turned from classic fairytale into a live action movie starring Cate Blanchett, Helena Bonham Carter, Richard Madden and Lily James.
Branagh told euronews that the plot largely follows the Disney animated original.
"Its very exciting to come back to the Berlinale, the original film, the animated classic played here in the 1950s, so to come here with a new version on the same theme is very, very exciting," he said.
25-year-old Lily James, who was hand-picked to play the lead role of Cinderella said that the opportunity to play a princess was "mind blowing" and "dreamy".
Helen Bonham Carter told euronews what it was like to play the Fairy Godmother:
"It's trying to bring an icon to life, its slightly terrifying – the night before you start (filming) you go: I have the responsibility how to gonna make sense to this character but it was really fun to do," she said.
Reporting from Berlinale 2015, our correspondent Wolfgang Spindler told us:
"A fairy tale brought the official programme to a close. Later today (Saturday) we have the awards ceremony with no clear frontrunner to win the Golden Bear. Everyone is being kept in suspense."