Italy stunned by baby's death in ambulance after 'hospitals turned her away'
Comments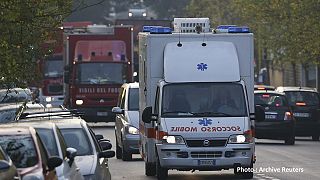 Italy is in shock. A young mother is in mourning.
And public health services are under scrutiny after a newborn baby with breathing difficulties died – reportedly turned away from at least three hospitals on Sicily because of lack of space.
Running out of options, the ambulance carrying little Nicole Di Pietro set off for another hospital more than 100 kilometres away.
But Nicole, born in a private clinic in Catania without the neonatal intensive care facilities she
needed, died on the way.
As her family grieves, regional and national inquiries have been launched.
On her Facebook page, Nicole's mother Tania blames 'human error' for her daughter's death, demanding justice so that her child can rest in peace.
Her pain and dismay have been echoed by Italy's new President Sergio Mattarella, himself from Sicily.
The local health minister has resigned but this scandal goes much further with an investigation into possible healthcare failings in a separate case in Naples in which an eight month old baby died.