German police help catch Kosovan refugees on Hungarian border
Comments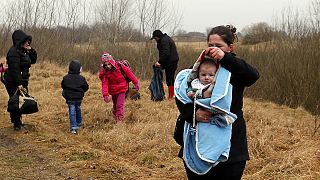 At the main bus terminal in Pristina, Kosovo, some passengers are taking advantage of a relaxation of travel restrictions to Serbia. But many of them won't be stopping in Belgrade.
They could be part of a sharp rise in Kosovans smuggling themselves into the EU through Serb-Hungarian border.
In January alone, almost four thousand Kosovo residents sought asylum in the EU to escape poverty in their homeland. That compares to some six thousand during the whole of 2013.
Video footage shows how entire families cross icy water on the border, carrying babies and their belongings.
Hungary says as many as half of all asylum applications leave the country within 24 hours of arriving. The rest, move on a few days later. Many of them end up in Germany, Switzerland and Austria.
German police, equipped with thermal imaging cameras, are now helping patrol the Serbian border amid calls for tough new rules.