France: Optimism that first foreign Rafale fighter jet sale could trigger more orders
Comments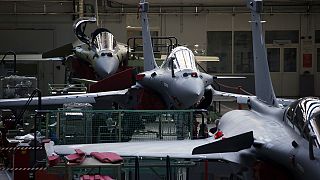 Now that France has found a first foreign buyer for its Rafale fighter jet, maybe the orders will just keep rolling in.
I think that this sale to a big Arab country will snowball
That is certainly the hope of manufacturer Dassault Aviation whose Chief Executive says the sale of 24 of the aircraft to Egypt is likely to inspire other potential clients in the Middle East and Asia.
"I think that this sale to a big Arab country will snowball," Eric Trappier told France's RTL radio.
"There are other potential clients in the Middle-East… Qatar is looking, this is not news,… we are also trying to project ourselves in Malaysia," he added.
Commenting on a stalled deal to supply 126 Rafale fighter jets to the Indian Air Force, Trappier said: "India will take longer than Egypt".
French confidence is soaring thanks to the breakthrough deal with Egypt's President Abdul Fattah al-Sisi who visited Paris last November on his first European tour since taking power from overthrown Mohammed Morsi in 2013.
After years of dashed French hopes to export one of the most expensive fighter jets in the world, President Francois Hollande acknowledged that his government had made efforts on financing.
"Not only to sell Rafales but also because we consider… that in the current context it is very important for Egypt to take action for stability and to stay safe," he told reporters.
The sophisticated aircraft will help Sisi upgrade Egypt's military hardware amid fears that the crisis in neighbouring Libya could spill over.
The more than 5 billion euro deal for 24 Rafales, a naval frigate and related military equipment is due to be signed in Cairo on Monday.