Egypt: Al Jazeera journalists released on bail
Comments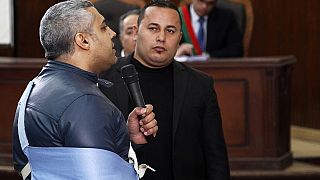 Mohamed Fahmy has been released on bail, but the case against he and his colleague Baher Mohamed will continue on February 23, 2015.
The two Al Jazeera journalists were released on Thursday (February 12) after being jailed in Egypt for over 400 days for allegedly aiding a 'terrorist organisation'.
Egyptian authorities accuse Al Jazeera of being a mouthpiece for the outlawed Muslim Brotherhood.
The case has triggered an international outcry, with government critics claiming Cairo is quashing freedoms gained after the 2011 toppling of autocrat president Hosni Mubarak.
Fahmy, a naturalised Canadian who gave up his Egyptian citizenship, was released on bail in the amount of nearly 29,000 euros, while Egyptian Mohamed was released without payment.
The pair were sentenced to seven and 10 years respectively, alongside Australian colleague Peter Greste. He was freed on February 1, 2015 and swiftly deported.